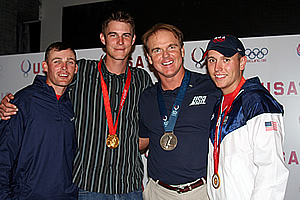 2008 & 2012
Summer Olympics
Beijing, China / London, UK

Left to Right:
Mark Weeks (Shotgun Coach)
Glenn Eller (Gold Medalist)
Dan Vitchoff
Vincent Hancock (Gold Medalist)

These Unique, Effective and Specific Techniques that were developed right here in our office will be used when you come into our office to help you:
LOSE WEIGHT
QUIT SMOKING
REDUCE STRESS AND TENSION
IMPROVE YOUR GOLF GAME
ENHANCE SPORTS PERFORMANCE
BECOME A BETTER PUBLIC SPEAKER
ESTABLISH AND MAINTAIN SELF CONFIDENCE
OVERCOME PERSONAL OBSTACLES SUCH AS FEARS, PHOBIAS AND INSOMNIA
Achieve Life Changing Results with Dan Vitchoff's Trademarked 33 Method Hypnosis Programs

Dan Vitchoff is one of the nation's leading hypnotherapist and the most trusted and effective hypnotist in Pittsburgh. Vitchoff's methods and techniques have been featured in many local and national news stories and articles . (include video of the WTAE Story on the home page where you think it would be the most effective.)

Dan Vitchoff's Hypnosis Programs offer a unique combination of hypnosis, NLP (neuro-linguistic programming) and cutting edge brain wave technology to help you achieve positive and permenant changes in your life.

You can do anything when you put your mind to it! Discover how easy it can be for you to Lose Weight, Stop Smoking or Overcome Anxiety with Hypnosis. Whether you are 9 or 92, your brain has the ability to generate new neurons and create new neuro pathways which means that you can re-learn or re-train your brain to eat healthy and exercise, live your life as a non-smoker without cravings, desires or weight gain and conquer anxiety in any situation.

Call today to schedule your FREE Consultation and Evaluation! 724-934-8446
Daniel S. Vitchoff
One of the Nation's Leading Hypnotherapists
Daniel Vitchoff, of Pittsburgh, PA, is a member in good standing with the National Guild of Hypnotists. His standing recognizes his ethics, hypnotism skills, and affiliation with Nationally and Internationally renowned professionals. He is prominent on a National and Local Level in the areas of Executive Solutions, Corporate Personnel Issues, Athletic Performance Improvement, Olympic Athletes as well as various Individualized Programs. He is considered to be a behavioral expert in the field of
weight loss
and
smoking cessation
. Clients from the Pittsburgh area applaud his services and are thrilled with their success.
Check out our success stories.