Quit Smoking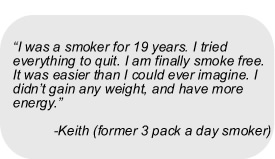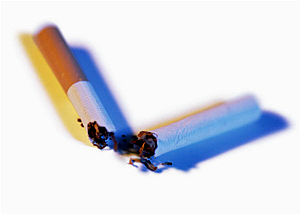 Live Your Life Smoking Free
Our clients have been able to quit smoking for good. So can YOU!

Are you ready to quit smoking?

Hypnosis can help you start enjoying a life free from cigarettes.

Wouldn't you like to:   STOP SMOKING FOR GOOD?
1. NO Withdrawal
2. NO Cravings
3.NO Weight Gain

Be Healthy – Feel Healthy
If you are one of those people like our clients who have tried everything to quit smoking from patches, gum, pills, to counseling with no success, then you owe it to yourself to try hypnosis.

People have a difficult time stopping the habit of smoking. They are not only addicted to the cigarette, but have a very strong attachment to habits that are associated with smoking. Using behavior modification is recommended by all smoking cessation professionals. Even medications that are sold over the counter or prescribed by physicians recommend behavior modification. You may have tried patches or pills prescribed by medical physicians and failed to stop smoking. It has been proven that your success rate greatly improves through hypnosis.

Change your behavior…Change your life!
HYPNOSIS WORKS.  Are you ready to begin a healthier life, smoke free? Hypnosis is the most powerful, natural, safe and easy way to quit smoking. Hypnosis can help you kick the habit and do so without replacing it with other bad habits. You don't have to gain weight just because you quit smoking. The process of hypnosis can help you replace behaviors that trigger your desire to smoke and help to increase your will power. Hypnosis can allow you to focus on the benefits you are gaining instead of feeling as if you're being deprived of something.
***Results may vary based on the individual. It is impossible to guarantee results, but the testimonials and information discussed above detail events and outcomes with actual clients.***