Turn Procrastination into Motivation 

Do the following describe you?

Forgetful and Disorganized…
Tired of putting things off…
Your closets are stuffed full…
You wait until conditions are perfect before you act…
It's hard to figure out "where to begin" because you have trouble prioritizing…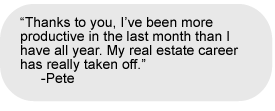 Do minor responsibilities haunt you? 

Do you feel overwhelmed by the small tasks of life? 

You must READ ON!

Millions of people painfully suffer through life allowing tasks and responsibilities to control their lives. They find no joy in accomplishing small or large jobs. They are often unable to prioritize tasks and figure out where to begin the monumental job that is haunting them; holding them back from living a happy clutter free life. Are you one of these people? You may not want your life to be in misery and despair. Don't be hard on yourself. Your condition is a result of an unsettled mind that itself is disorganized. No wonder things mount up and you feel overwhelmed.

Procrastination is common. It is a destructive psychological avoidance mechanism that sabotages your ability to lead an effective and stress-free life. Most of us struggle with a natural reaction to avoid unpleasant tasks. For people many people procrastination really interferes with enjoying life. One can easily spot signs of a serious procrastination problem.


Don't Be Defeated by Tasks and Responsibilities. Let our Hypnosis CDs Help you.
Allow hypnosis to help you win. It can help you be happy, excited and driven to jump into the tasks you have been avoiding. It can put you in control of your life. Hypnosis can get to the part of the subconscious that is unsettled, disorganized and overwhelmed, and can help you overwrite the self-limiting attitudes and beliefs about yourself.
***Results may vary based on the individual. It is impossible to guarantee results, but the testimonials and information discussed above detail events and outcomes with actual clients.***