Chocoholics - Overcome Chocolate Cravings Now!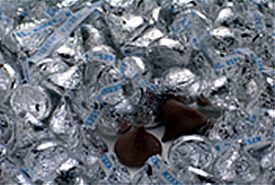 No matter how much you try every day, do you still have to have your chocolate fix?Is chocolate sabotaging your diet?

Would you like to be able to look at chocolate and walk away without hesitation?
Perhaps you only resort to chocolate binges when you are depressed, or maybe you're one of those who secretly know that you are a chocolate addict and you keep it to yourself.

For most CHOCOHOLICS, no matter how hard you try, you seem to find a way to convince yourself to eat more and more, despite your best intentions to avoid it.
It is a fact that millions of people are addicted to chocolate. The U.S. alone consumes over 2 billion pounds annually, and a majority of chocolate consumers know that its high sugar content leads to obesity and that it is also linked to migraines, acne, dental cavities, heartburn, and coronary problems. 

Frequent consumption of chocolate can lead to addiction and once this has set in, it will take more than willpower to stop and the most powerful measures are required like hypnosis and hypnotic aversion therapies.

So, why can't you give up chocolate? And why is it that motivation or willpower is not enough? This is because the decision that you make to eat  chocolate is an unconscious habit.  You consciously know all the reasons you want to stop eating chocolate. But your conscious mind likes to think it is in control when it is really your subconscious mind that has the power to end your craving for chocolate.  The subconscious mind is far more powerful than the conscious mind. It's your subconscious mind that drives your habits and behaviors, like a robot, you find yourself going back after the chocolate time and time again no matter how hard you try. The process of hypnosis allows you to change from within by communicating with your subconscious mind.  Once you begin shifting your thinking, your conscious mind and subconscious mind are in sync and you can end your constant cravings for chocolate.

Being in control feels better than chocolate tastes!

***Results may vary based on the individual. It is impossible to guarantee results, but the testimonials and information discussed above detail events and outcomes with actual clients.***