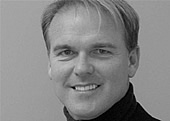 Daniel S. Vitchoff, MS. Ed., CHT
President of PA Hypnosis Center
Founder of "The 33 Method" Mental Training

The Only Hypnosis Center in Pittsburgh
Whose Methods and Techniques Have
Won Gold Medals at the Olympics
The Power of Suggestion
Daniel Vitchoff specializes in teaching old brains new tricks.
Through hypnosis, he's able to bypass a person's conscious mind and offer the freewheeling subconscious mind suggestions that, over time and with repetition, bread bad habits and build healthy ones.
Pittsburgh Professional Magazine
Pittsburgh Professional Magazine featured Dan Vitchoff in their December 2008 Issue. In a four page spread titled "ENTER THE ZONE", Dan Vitchoff proved the power of hypnotherapy by working with gold medal Olympic Athletes. Written by Jennifer Gill Kissel and Photography by Rob Larson.




Left to Right: Mark Weeks, Glenn Eller, Dan Vitchoff and Vincent Hancock


U.S. Soldiers Win Olympic Gold
by Jonathan Serrie


Some of the elite marksmen who train American soldiers for combat are also Olympic athletes.
On tonight's FOX Report w/ Shepard Smith, we feature Pfc. Vincent Hancock, who won the gold medal for skeet shooting at the Olympics in Beijing. The contest came down to an "instant death" tie-breaker between Hancock and Norwegian marksman Tore Brovold.
Hancock is one of six soldiers in the U.S. Army Marksmanship Unit (AMU) to compete in the 2008 Olympics. A fellow solider, Spc. Walton Glenn Eller III, won a gold medal in the men's double trap competition.
Members of the AMU have brought home nearly two dozen Olympic medals since the unit's inception in 1956.
President Dwight Eisenhower created the AMU at Ft. Benning, GA to raise marksmanship standards throughout the U.S. Army. In addition to international competitions, Hancock and his fellow marksmen serve as instructors, preparing soldiers for combat.
The AMU also includes a research and development team of gunsmiths and technicians.
"One of their missions is to put the best gun and the best ammo into our hands," said Maj. Michael Anti, a 2004 Olympic silver medalist. "Their other mission is to put that same quality of weapon system into the (hands of) soldiers so they can survive on the battlefield."

Playing mind games on shooting range
Peter Fimrite / San Francisco Chronicle
Vincent Hancock is a nervous person, who by his own admission simply cannot keep still.
But when everything was on the line Saturday and he had to hit two final shots to win the skeet shooting Olympic gold medal he stepped up and calmly blew the whizzing disks out of the sky.
How does a jittery 19-year-old kid from Georgia keep cool under the intense pressure of an Olympic final when everyone around him is sweating bricks?
That's where Daniel Vitchoff steps in.
"I specialize in hypnosis," said Vitchoff, a performance coach and sports psychologist hired to work with the U.S. shooting team. "When you are shooting in the Olympics, it comes down to who can best perform under extreme pressure. Out there, everybody is as good as the next person. It's not a physical thing anymore. The difference between the best and the rest is the mental game."
All sports on the Olympic level, where every athlete is fit, well trained and gifted, are to a large extent mental. But events like shooting, archery and a few others that require a steady hand are extreme psychological tests. The athletes in these sports must control their emotions yet still maintain their intensity and concentration. It is especially hard because there is no physical outlet for all the adrenaline that is building. It is a recipe for the yips.
"There are guys who shoot perfect scores in practice and then they fall apart in the competition," Vitchoff said. "It's like having a phobia. It gets into their head and tears them apart. A lot of what I do is teach them to let it go."
That's where the hypnosis comes in. The idea, Vitchoff said, is to put the athlete into a meditative state by lowering their blood pressure and heart rate, sometimes with music. Vitchoff then uses what is essentially the power of suggestion to reinforce positive thoughts. He said he goes over the relaxation techniques repeatedly until his subjects are able to reach what he calls the "zone."
"Look at Michael Jordon. When he played, his tongue was out, his jaw was relaxed. He was in a zone," Vitchoff said. "It's really a subconscious state. You're not thinking about what you are doing. You're just doing it. Tiger Woods is the same way."
Another technique is called modeling, in which he takes something the athlete is struggling with and has him or her watch video over and over of that particular thing being done successfully.
"In our business we always say success has a structure," Vitchoff said. "If you watch success, you can duplicate it."
Eating right and proper exercise are crucial parts of such a regimen, Vitchoff said. For shooters he recommends more protein -- because carbohydrates hype you up and then make you crash -- and repetitive exercise like running and biking.
"The stronger your heart, the slower it beats, so if I have to pull the trigger between heart beats I want to work on slowing it down," Vitchoff said.
An ever increasing number of elite athletes, professional sports teams and the United States Olympic Committee are now employing sports psychologists. It is a fast growing field, but one that is still plagued by old prejudices.
"I work with a lot of athletes, but some of them don't want anybody else to know about it," Vitchoff said. "That stigma still exists."
There is no question about the positive effect Vitchoff's mental training has had on Hancock. The Army specialist is one of two skeet shooters in history to shoot perfect scores.
Vitchoff pointed out during the Olympic competition how Hancock always stood behind the other shooters with his head down immediately after his turn shooting. He was trying to slow his breathing and relax. As Hancock's turn to shoot approached his movements slowly quickened.
"It is all by design," Vitchoff said. "The trick is to learn how to lower your blood pressure to the point where you can actually feel the heart rate go down. His goal is to clear his mind so that he can then focus."
Hancock has also learned to use his inability to stand still to his advantage.
"I'm obviously a very nervous person. I pace around when I'm shooting and that helps me calm down," he said. "I'm pacing back and forth while most of the shooters are shooting and I don't tend to watch them and I try not to care about them ... I try to take the anxiousness and nervousness and turn it around into energy that I can focus on my shooting."
Ultimately, Vitchoff said, Hancock's gold medal is less about beating opponents than becoming a master in the Olympian struggle against the mind.
SKEET SHOOTING
G.I. makes his mark
Army instructor holds off co-record holder in sudden death
Peter Fimrite, San Francisco Chronicle Staff Writer
Sunday, August 17, 2008
(08-16) 17:36 PDT -- You don't shoot at flying disks in a firefight, but the skills of Olympic skeet shooting champion Vincent Hancock are being used every day by soldiers in Iraq and Afghanistan.
The 19-year-old Army specialist won the gold medal Saturday at the Beijing Shooting Range in the event, in which competitors shoot down little orange Frisbee-like disks with a shotgun.
The competition came down to a thrilling shoot-off between Hancock and his Norwegian rival and co-world-record holder Tore Brovold, who had the added pressure of performing in front of the king and queen of Norway.
"I was just trying to wait till I saw the targets because I wasn't seeing the targets really well," Hancock said after missing only four out of 104 disks in the preliminary and final rounds and then the sudden-death shoot-off. "On the last couple of pairs, I was really focusing and really determined, and it paid off for me."
Hancock is a phenomenon in the shooting world, having won the world championship at the age of 16, but he is merely the latest in a slew of military marksmen to make their mark on the Olympics.
He is one of seven Olympic shooters stationed at the Army Marksmanship Unit at Fort Benning, Ga., where U.S. soldiers are trained before heading off to war. Lt. Col. Frank Muggeo, the unit commander, said this is where the best and fastest guns in the West can be found.
"The Army marksmanship unit is comprised of the best shooters in the armed forces," Muggeo said. "It has 23 Olympic medals. That's more shooting medals in just one unit of the Army than any other country except China."
The shooters in the marksmanship unit make up more than half of the 13 American Olympians who are in the military. They include three-time Olympian Glenn Eller, who won a gold medal in double trap shooting last week, connecting on an Olympic record 190 of 200 targets.
More important than the medals - at least in terms of long-term benefit - is the fact that these men are the experts who train America's troops, Muggeo said. More than 3,000 soldiers who trained at Fort Benning last year have been deployed in Iraq and Afghanistan, he said.
Skeet shooting was developed in the United States in 1915 as a training tool for shotgun-toting hunters of waterfowl. It would seem at first that duck-hunting skills would be of little use in combat. But Muggeo said a good skeet shooter has developed fundamentals that apply in all situations.
"I've been in the Special Forces for 21 years and I thought I knew how to shoot, but in 20 minutes with these guys they taught me how to shoot better," said Muggeo, 43, whose unit has provided marksmanship training with rifles, service pistols and combat weaponry for 52 years. "If you look at the position these guys take when they are shooting, it has a direct correlation to the positions you take in combat."
Spc. Hancock works as an instructor for noncommissioned officers and squad leaders in urban warfare skills, including the point-and-shoot techniques used by skeet shooters.
"We train the sergeants and NCOs of the Army (so they can) help better prepare the younger soldiers and themselves for going overseas," Hancock said. "With the shotgun unit we do close-quarter combat, which is clearing houses and various stuff that has to do with shotguns."
Hancock had a knack for the sport from the time he was a boy growing up in Bennington, Ga., said his father.
"When he was 12 years old, he told me he wanted to go to the Olympics, so I built him a skeet range in the backyard," said Craig Hancock, who taught his son to block out distractions by running sprinklers and letting the dogs bark during training sessions. "He trained every day and on weekends. You give him a challenge and he will not quit until he can beat it. He does everything like that."
Nearly half the men in Hancock's marksmanship unit have seen combat, but don't expect to see the gold medalist dodging bullets in the Middle East like his brother Matthew, who has had two tours of duty in Iraq.
"I wouldn't be surprised if he asked to go, but we don't send individuals to combat. We send units to combat," Muggeo said. "Everybody in my unit is a trainer. If he went over there, he would be the best shot in the squad, but he wouldn't be training the thousands of other soldiers who need to learn these skills."
This article appeared on page C - 12 of the San Francisco Chronicle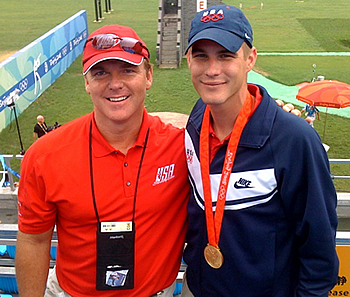 Walton Glenn Eller Teams Up With Dan Vitchoff To Bring Home The Gold
2008 Summer Olympics, Beijing, China
August 12, 2008 ~ Walton Glenn Eller, native of Katy, Texas won the Gold Medal and set two Olympic Records in Men's Double Trap. The third time was a charm for Glenn Eller who finished 12th in the 2000 Olympics and 17th in 2004. First, Glenn's qualifying score of 145 set an Olympic Record and then his total score of 190 set another Olympic Record. Even though Glenn was under intense pressure throughout the competition, in the end, he proved himself to be the Best in the World in Double Trap.
Eller's intense focus and concentration under pressure helped him to win the gold and break two Olympic Records. Months before the Olympic Games, before he even qualified for the US Olympic Shooting Team, Glenn teamed up with Dan Vitchoff, Mental Training and Performance Coach to help master his mental game. Dan Vitchoff, founder of the Nationally Acclaimed Sports Improvement Technique, "The 33 Method" utilizes sports psychology, hypnosis, NLP, visualization and imagery to help his athletes compete at Peak Performance under extreme pressure. When Vitchoff and Eller began working together they set a goal of winning a Gold Medal at the 2008 Summer Olympics in Beijing, China and Dan Vitchoff designed a Mental Training Program specifically with that goal in mind. Dan Vitchoff's "33 Method" follows a Structure of Excellence that can also be applied to the business world. The same Mental Training Techniques that helped Walton Glenn Eller win the Gold Medal at the 2008 Summer Olympics in Beijing, China can also help high-level corporate executives and sales people advance in their careers. For more information about "The 33 Method" Mental Training and Performance Coaching for Athletes or "The 33 Method" Executive Coaching for Business Executives and High-Level Salespeople please call 724-934-8446 or email dan@33method.com.
Valley native helps Olympians win gold
By Chris Buckley
VALLEY INDEPENDENT
Saturday, August 23, 2008
Many athletes dream of Olympic glory.
California native and 1978 California Area High School graduate Dan Vitchoff helped three shooters visualize that goal, prepare mentally and then watched them "go for the gold."
Vitchoff, who owns Pennsylvania Hypnosis Center in the North Hills, is a sports psychologist. His recent first Olympic experience turned out golden.
In Beijing, he used his own "33 Method," which he kept under wraps until after the competition was complete. An all-encompassing program, it includes a combination of programs used in performance coaching including hypnosis, NLP, visualization, breathing exercises and nutrition.
Brain wave activity was monitored. The athletes also listen to music that manipulates and calms down the brain
Sports psychology is nothing new, but Vitchoff has taken it to the edge.
At Beijing, Vitchoff worked with three shooters. Vince Hancock won the gold in the men's skeet shoot while Walton "Glenn" Eller won the gold medal in the men's double trap. Both set Olympic record scores in the process. Jeff Holguin finished fourth in the men's double trap.
Those were the only two gold medals won by the U.S. shooting team.
"Shooting is very mental," Vitchoff said. "Everybody who makes the Olympics could win on any given day. The winners are ones who are able to perform under pressure."
Vitchoff was introduced to shooters during an event at Ligonier in 2005. His involvement with the U.S. Army Marksmanship Unit and U.S. Shooting began shortly after that.
This was Vitchoff's first Olympic experience.
"It was one of the most incredible experiences I've ever seen," Vitchoff said. "It was one of the most incredible displays of poise and talent I've seen."
The experience opened other possible doors for Vitchoff. He received inquiries from other countries.
"But I'm committed to these guys and to our country," Vitchoff said. "Seeing our flag go up that pole was truly inspiring."
Within the next couple weeks, Vitchoff will switch gears and seasons.
Vitchoff also works with golfers, hockey and football players, wrestlers and gymnasts. He is also working on a program to help basketball players improve their free throw shooting.
Because there is a certain amount of confidentiality with athletes, Vitchoff declined to identify other clients.
Vitchoff said he saw parallels between Beijing and the Mid-Mon Valley.
"One morning I got up to jog at 6 a.m.," Vitchoff said. "I thought, 'Hey, this looks a lot like the Mon Valley with people going to the steel mills.'
"It reminded me of the Mon Valley. The people were very friendly and so accommodating. When I grew up, the people did not make excuses; they just got things done."
Dan Vitchoff Provides Mental Training and Performance Coaching to US Olympic Athletes
2008 Summer Olympics, Beijing, China
August 8, 2008 ~ Pittsburgh's own, Dan Vitchoff is currently in Beijing, China helping his athletes to prepare for the 2008 Summer Olympics. Dan Vitchoff, Board Certified Hypnotherapist, Mental Training and Performance Coach and founder of the nationally acclaimed sports improvement technique, "The 33 Method" traveled with members of the US Olympic Shooting Team to South Korea and Beijing, China in their quest for "Gold."

For more information about "The 33 Method," Dan's Athletes and Olympic Results please visit www.33method.com

Related Articles:

Olympics are a high point for coaches, officials, too
Pittsburgh Post Gazette, August 3, 2008
Click here to read

A Shot At The Olympics
Air Force Times
Click here to read
Dan Vitchoff's 'Save A Life' Campaign Provides Opportunities for Local Boy Scouts
By Vanessa Orr
Lifestyle changes, such as losing weight and stopping smoking, can go a long way to improving health and quality of life. Many diseases, such as heart disease, diabetes, stroke and some forms of cancers can be prevented by adopting a healthy lifestyle. For many people, though, trying to give up smoking or lose weight seems an almost insurmountable task. Breaking old habits and patterns is extremely difficult to do. Despite even the best intentions, people are often sabotaged by their own subconscious thoughts.

Dan Vitchoff will donate $25 to the Boy Scouts Greater Pittsburgh Council for everyone who purchases a Weight Loss or Smoking Cessation Program and chooses the Boy Scouts, Greater Pittsburgh Council as their Charitable Designation for the 'Save A Life Campaign'. Please call 724-934-8446 to schedule your Free Consultation and mention the "Boy Scouts Save A Life Campaign."
PA Hypnosis Center named "The Reddest Office in Pittsburgh"

Thanks for going red with WISH 99.7 and the American Heart Association to bring awareness to the fight against heart disease…and congratulations to the reddest office in Pittsburgh…. the PA Hypnosis Center. Dan Vitchoff and his staff at PA Hypnosis Center turned their office red to help raise awareness of the dangers of heart disease among women. Dan Vitchoff helps his clients adopt a more healthy lifestyle and prevent their risk of developing Heart Disease, Diabetes and Certain forms of Cancer. Dan's unique approach to Hypnosis is the most powerful and effective form of behavior modification available. Dan's clients have Discovered the Secrets to Permanent Weight Loss, Quitting Smoking without Gaining Weight, Exercising on a Regular Basis, Reducing Stress and Anxiety and Living Healthy for Life.

PA Hypnosis Center helps Cancer Patients Relax, Nurture and Indulge

Women Think P.I.N.K.

On February 22nd and 23rd, 2008 representatives of Dan Vitchoff's Pittsburgh Hypnosis Center participated in Pittsburgh's Largest Pajama Party and Women Think P.I.N.K at the Crowne Plaza Hotel on Ft. Couch Rd. in Pittsburgh. The Women Think Pink mission is "to facilitate a relaxing and entertaining event of pampering, indulgence, nurturing and kinship." Dan Vitchoff and his staff at Pennsylvania Hypnosis Center are experts in relaxation, nurturing and kinship. Dan's Hypnosis Programs offer participants opportunities to prevent health challenges and nurture them through their times of illness. We are proud to support Women Think P.I.N.K. in their contribution to the Hillman Cancer Patient Assistance

Fund in memory of Dee Dee Sacco.