Fingernail Biting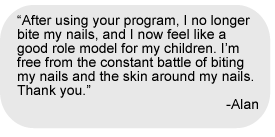 Reduce the tension and stress that causes fingernail biting!

Are your nails ugly and embarrassing?

Do you catch yourself biting your nails?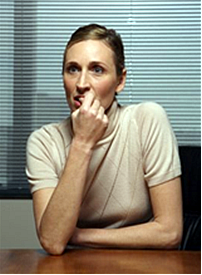 END FINGERNAIL BITING QUICKLY AND EASILY.

THIS NEW CLINICAL HYPNOSIS PROGRAM CAN HELP YOU END THIS HABIT THE EASY WAY.
We have had many requests for programs to help stop fingernail biting. This program is getting rave reviews. It is safe, easy, and guaranteed effective. 

Your fingernail biting probably started when you were a child. Since it has continued into adulthood it is now embarrassing, unsanitary, and unattractive. This habit goes deep into your mind. It causes you stress within your mind, because your conscious and subconscious are in disagreement. It has become more than a bad habit. Because it is now deep seeded in your brain, you need to reprogram the brain and rid your mind of the stress of this exacerbating problem.

Hypnosis can make you permanently program your mind to end this embarrassing, and controlling nature of nail biting. 

Now you can find out how good you will feel when you are not preoccupied with biting your nails. You can remain relaxed and confident after using our program.

***Results may vary based on the individual. It is impossible to guarantee results, but the testimonials and information discussed above detail events and outcomes with actual clients.***